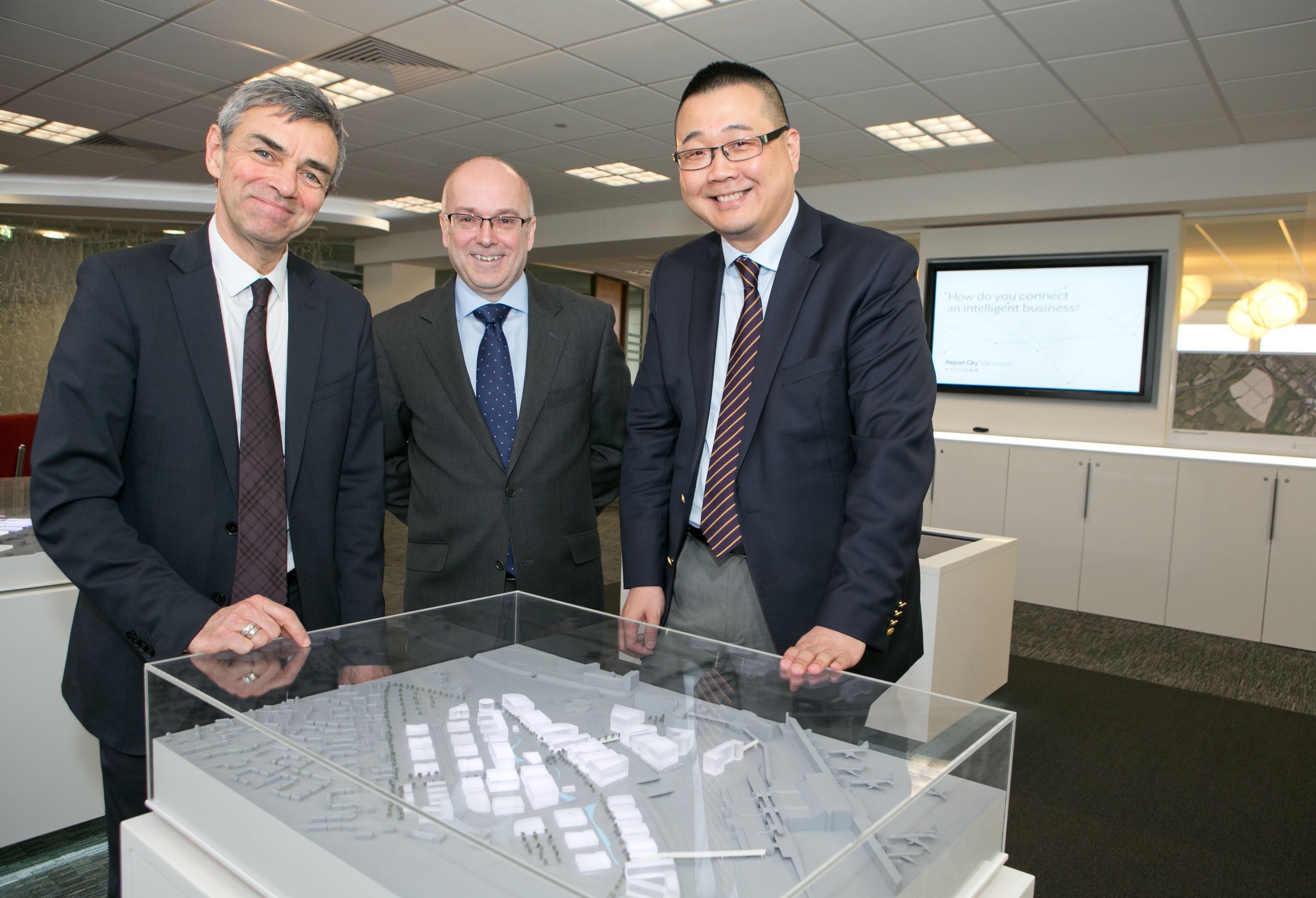 Manchester Airports Group (MAG) has announced a joint venture agreement with Beijing Construction Engineering Group (BCEG)
Manchester Airports Group (MAG) has announced a joint venture agreement with Beijing Construction Engineering Group (BCEG), Carillion PLC and the Greater Manchester Pension Fund (GMPF) in relation to the development of the £800 million Airport City project at Manchester Airport. Argent has been appointed by the joint venture as development manager for the scheme.
Airport City will be the core element of the Government-designated Enterprise Zone surrounding the UK's third busiest airport, Manchester. The objective of siting the zone around Manchester Airport alongside supporting sites in South Manchester was to help attract international businesses that could contribute an additional 16,000 jobs in the North West of England.
Outline planning permission for Airport City was secured at the start of 2013 and the Chancellor, George Osborne, marked the official start on site at the end of May. It will provide 5m sq ft of development, a mix of offices, hotels, advanced manufacturing, logistics and warehousing.
MAG searched for joint venture partners
MAG launched its search for joint venture partners at the end of 2012, advised by CBRE and Eversheds. The aim of the international search for investors was to secure partners who could bring global development expertise, alongside access to international occupiers and financing capabilities, which would support MAG's land ownership and experience in airport developments.
Charlie Cornish, Chief Executive of MAG, said: "We are delighted to confirm organisations of global standing as our joint venture partners. The inclusion of BCEG is significant because as a Group, we have been keen to forge greater links with the Far East and this gives us an opportunity to strengthen vital business links with China. With GMPF on board, Greater Manchester is investing in the future of the North West and Carillion bring sector-leading experience in project finance, delivery and sustainability, both in the UK and internationally. In Argent, we have one of the most renowned developers in its field and by working together as a partnership, we are well positioned to deliver the UK's first Airport City."
Airport City scheme
Airport City is expected to be one of the largest regeneration schemes in the UK since the Olympics redevelopment in East London, hence the need for a strong group of partners. Airport City will compete with existing projects outside the UK including those on the airport sites of Barcelona and Amsterdam. Manchester Airport is currently used by over 20 million passengers annually, and has flights to more than 200 global destinations. Over 6.5 million people (8% of the UK population) live in Manchester and the North West area, accounting for 11% of UK GDP.
MAG has been actively looking to the Far East for a direct airline service between Manchester and China in the last year and MAG's Chief Executive, Charlie Cornish, is the chair of the Manchester-China Forum, a new business-led initiative aimed at increasing Greater Manchester's commercial connectivity with China.
In 2012, the UK and China set a target of growing bilateral trade to $100bn by 2015 when Chinese investment into the UK stood at around $8bn at that time. The Airport City deal presents one of the biggest joint venture investments into the UK. BCEG is a leading construction and engineering company in China and is already active in global markets, particularly in the USA.
Mr. Xing Yan, Managing Director of BCEG International Co. Ltd. said: "To be included in such an interesting and unique development is a real honour. To be part of a project of this size and scale, working alongside other such highly regarded organisations, will be an exciting, challenging and rewarding opportunity, which we look forward to beginning. We see our involvement in Airport City as an extension of the memorandum of understanding between China and the UK, where we have been looking to further explore joint infrastructure opportunities for some time."
Carillion PLC already has vast experience in the UK, Middle East, North Africa and Canada and will be an important conduit between the UK and Chinese sectors.
Richard Howson, Chief Executive of Carillion, said: "We are delighted to be a member of the joint venture that's been chosen to deliver this prestigious development, which reflects our reputation for quality and reliability and our success in building strong long-term relationships with our partners and customers. We look forward to working in partnership with MAG to deliver Airport City, which will further enhance Manchester's position as one of the premier airports in the world."
Argent is widely recognised as one of the leading developers in the UK. Their creative approach to development has led to the successful regeneration of over 67 acres of brownfield land, at King's Cross in London as well as projects in Manchester such as One Piccadilly Gardens and Piccadilly Place, and most recently, One St. Peter's Square.
David Partridge, Managing Partner at Argent (Property Development) Services LLP, said: "We are very enthusiastic about being a part of what is, without doubt, one of the most exciting development opportunities in the country.  Airport City is an innovative and inspiring vision that is set to change the way business is done in the UK. Our aspiration as part of this international joint venture to create a world class business destination that will open up new connections on a global level. Argent's involvement plays to our key place-making strengths, and underlines our continuing commitment to Manchester and the North West region."
GMPF is the pension scheme for the ten local authorities in Greater Manchester and a host of other bodies, such as schools, colleges and charities. It is also part of the nationwide pension scheme for local authorities.
GMPF Chairman, Councillor Kieran Quinn said: "The Greater Manchester Pension Fund is delighted to be a partner in the Airport City project. This innovative development will attract international businesses to locate to the region and support economic growth in Manchester and the wider North West."