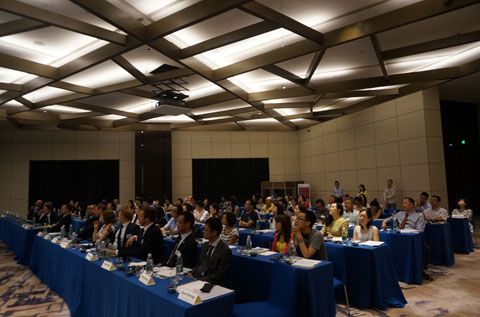 Airport City Manchester travelled around China on its first international road show
Between 9th – 13th June the landmark five million square foot Airport City Manchester development travelled around China on its first international road show, with over 200 delegates attending to find out more.
Visiting Tianjin, Beijing, Shanghai and Shenzhen a senior delegation from Manchester Airports Group (MAG), Beijing Construction Engineering Group (BCEG), Industrial and Commercial Bank of China (ICBC), the British Embassy, Argent and MIDAS showed potential occupiers looking to expand into the UK, the benefits of the project, which is a UK first.
In each city a series of presentations were undertaken to show attendees the scale of the project, investment opportunities in Manchester, the ease of integrating into British life and to announce Airport City Manchester's CONNECT service.
Industry sectors that attended the road show include financial, legal, aviation and telecommunications, with many showing a real interest in the project. Attendees in China have now been invited to come over to Airport City Manchester in September to see the project first-hand.
On the road show, MAG's Chief Executive Officer Charlie Cornish said: "It is a really exciting time to take Airport City Manchester out to China and I believe the seniority of the delegation out there, proved the strength of the project and what it offers businesses looking to expand into the UK.
"We met attendees from a wide range of industry sectors that just proves Airport City Manchester isn't just for aviation businesses. The nature of the project appeals to any type of business that needs access to global markets easily and the unrivalled connectivity of Airport City Manchester more than delivers this."
BCEG participated in the road show to showcase a current example of a Chinese company that has successfully been involved in Airport City Manchester and easily integrated into British life.
As well as being a 20% joint venture partner in the project, BCEG now has a 25 person office on site at Manchester Airport and has successfully used Airport City Manchester as an entry point into the UK market. On the involvement Managing Director of BCEG International Co., Ltd, Mr Xing Yan said: "Airport City Manchester is set to change the UK economic landscape and the way the North West of England does business. We were delighted to be on home soil promoting the project to other potential investors, to show how investing in Airport City Manchester works and is deliverable."
The other joint venture partners are made up of Carillion (20%) and the Greater Manchester Pension Fund (GMPF) (10%), with Argent appointed as development manager. MAG has the remaining 50% share.
Argent's Managing Partner, David Partridge said: "It was an incredibly exciting opportunity to take Airport City Manchester out to China and to meet interested parties face to face. It has been a delight to showcase the size and scale of the project, plus its benefits to a whole range of different industry sectors including finance, technology, advanced manufacturing and aviation. Plans for the project are progressing at a great pace and to reciprocate the fact people gave up their time to see us in China, we are looking forward to welcoming attendees to Manchester, to visit Airport City in September, to see the project first-hand."
Airport City Manchester will be the core element of the UK Government-designated Enterprise Zone, which is intended to stimulate business growth through the provision of subsidies in the form of business rate discounts, worth up to £275,000, super-fast broadband, simplified planning procedures and the retention of pooled business rates by the Local Authority for a period of at least 25 years.
Outline planning permission for Airport City Manchester was secured at the start of 2013 and DHL was announced as the first occupier in November 2013, taking a 37,308 sq ft bespoke logistics building. It will offer five million square feet of retail, office, hotel, logistics, advanced manufacturing and warehousing space.
See www.airportcity.com.cn or www.airport city.co.uk for more information.