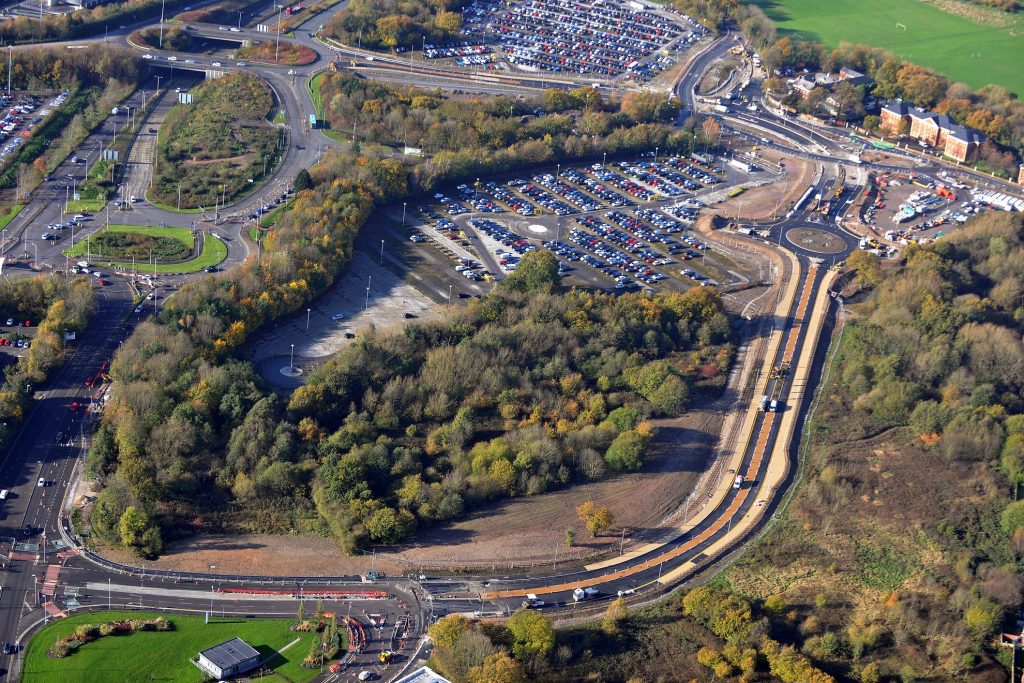 The £15m Enterprise Way link road has been opened at Airport City. Manchester Contractor Beijing Construction Engineering Group International (BCEGI) has completed the road on time and on budget, ahead of opening to general traffic.
The construction of Enterprise Way began in March 2017 and was delivered by main contractor and Airport City JV partner, Beijing Construction Engineering Group International (BCEGI). The new link road, on the site adjacent to Manchester Airport, forms a key element of the infrastructure that will connect new development plots to the rest of the landmark £1billion site and the wider transport network.
Dongwen Yu, lead director at BCEGI said: "I am pleased we have delivered the building of Enterprise Way on time and on budget. It is a very important milestone as we work with our partners to unlock the full potential of Airport City."
As one of the UK's largest business destinations in development today, Airport City Manchester has already seen the creation of up to 3,000 new jobs and attracted substantial investment across the 821,000 sq ft developed to date, including high-profile global companies including Amazon and DHL.
Councillor Susan Quinn, Chair of GMPF Property Working Group, an Airport City JV partner, said: "Airport City Manchester is a really exciting location for occupiers, and as we make significant progress on the development we have substantial interest from investors and operators for a number of hotels. We're also working with occupiers who are looking to develop campuses to meet both their office space requirements for today and to embrace a changing future."
The delivery of Enterprise Way highlights the scale of this unique site and frames the wider development opportunities across the Airport City scheme, following the significant 45 acre land sale at Global Logistics to TPG and Stoford in July 2017. This latest project is part of the £30m investment that has been committed by the Airport City Manchester JV partners into the development so far.
Simon Eastwood, Managing Director at Carillion Developments and Airport City JV partner, said: "It's been a really important year at Airport City Manchester, which has included the delivery of our first buildings, major infrastructure and a significant 45-acre land sale at Global Logistics, which has set the pace for what will be delivered in future. The opening of Enterprise Way highlights the scale and opportunity across this unique site and brings the range of development opportunities to life."