MAG and BCEG today confirm that they intend to participate in the tender process for the concession to operate Sofia Airport in Bulgaria. The process was started on 5th July by the Bulgarian Government.
MAG already operates three major airports in the UK at Manchester, London Stansted and East Midlands, which together serve 60 million passengers per year, to over 270 destinations via 70 airlines.
The company's unique ownership structure comprises a blend of both Manchester City Council and the Greater Manchester local authorities and long-term private investors (IFM Investors). This has ensured that its growth has been founded on its ability to balance the commercial considerations of its airports with a commitment to working closely with the local communities around each site to ensure that they benefit both from the point of view of investment, job creation and the environment.
MAG operates each of its airports as a unique entity, with a deep understanding of the aspirations and concerns of local residents, workers and economic partners. It understands the responsibility that comes with running an airport, given the economic growth and prosperity that a successful airport can bring to a city, region and country. In particular, MAG has a track record of engaging with local companies in its supply chain. MAG and its team of local advisers has spent over two years analysing the potential of Sofia Airport and is proud to be the first consortium to confirm its participation.
MAG's bid will be supported by Chinese construction giant BCEG, who are already working with MAG on the Airport City UK construction project in Manchester, one of the UK's most significant examples of collaboration with China in infrastructure development. BCEG's involvement will bring new opportunities for collaboration between Bulgaria and China.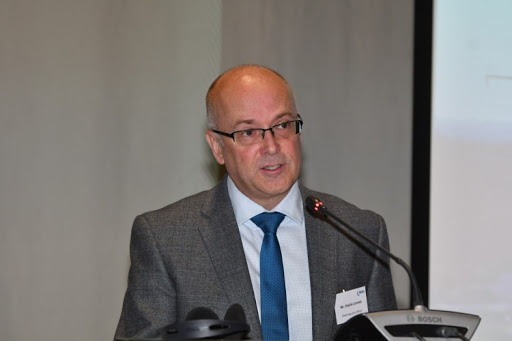 Charlie Cornish, MAG Chief Executive, said:
"Airports bring the world closer together and act as significant economic catalysts for both the regional and national economies in which they operate, and we hope to be given the opportunity to deliver to the people of Bulgaria the world class global gateway that they deserve."
"We have already undertaken a considerable amount of work in relation to this opportunity and have a clear vision as to how we will deliver a passenger experience and global route network for Sofia Airport that is comparable to other top tier airports around the world. We want to deliver direct international connectivity to Bulgaria to stimulate tourism and economic growth."
"At the same time, MAG recognises the importance that the communities surrounding our airports place on the airport being able to grow without increasing environmental impacts. MAG's belief is that when MAG airports prosper, the communities around its airports should also prosper. We have prioritised our international development activity to focus on Sofia Airport which would be one of the 'jewels in our crown' and our most significant overseas investment to date."
"We are delighted to be partnering with BCEG on our concession bid. Our partnership together on Airport City UK is thriving. We bring a full skill set to Sofia – our commercial and operational experience and BCEG's extensive construction skills and ability to deliver to the highest quality and standards."
MAG's most recent acquisition was its purchase of London Stansted Airport in 2013. London Stansted Airport has been transformed under MAG. In its five years of ownership, MAG has increased passenger numbers at London Stansted, the UK's 4th largest airport by 40% to 26 million passengers per year. This year it will handle 28.5 million passengers. Since 2013, the number of airlines at London Stansted has increased from eight to 22, and 40 new routes have been added, including a popular direct link to Sofia, which is one of the airport's fastest growing routes.
At London Stansted, like at Manchester and East Midlands, MAG's has used its extensive experience in terminal design and operations to create commercially successful retail, restaurants and bars and parking facilities, which have greatly enhanced the passenger experience. By developing its airports in a commercially-focused manner, MAG is able to focus on attracting airlines with deals that allow them to offer lower fares to more destinations.
MAG also has a track record of successfully working with Middle Eastern hub carriers to develop onward global connectivity from its UK airports via Dubai, Abu Dhabi, Doha and Muscat, which are all within 5 hours flight time of Sofia. It will also focus on introducing more flights from Sofia to Western Balkan cities such as Belgrade, Zagreb, Sarajevo and Tirana. Additionally, MAG operates the two most important airports for cargo aircraft in the UK and understands the importance of cargo links for trade at a national, European and global level.
All of MAG's airports are certified as 'carbon neutral' following extensive efforts to reduce the environmental impacts of their operations by MAG's in house team of experts.
MAG's partner, Chinese state-owned BCEG, one of the world's top 250 construction companies, has over 65 years of history specialising in construction, development and investment. BCEG employs over 20,000 people internationally to deliver its projects and services across 27 countries, over five continents, including regional offices in Australia, Canada, New Zealand, USA and the UK.
In 2013 BCEG set up its UK headquarters in Manchester and operates as Beijing Construction Engineering Group International (BCEGI). BCEGI joined the £1 billion Airport City project at Manchester Airport as an equity and construction partner.
BCEG has a strong track record of delivery in the aviation sector. To date it has delivered over one million square metres of new terminal floorspace, 15 major cargo/technical hangers and hundreds of kilometres of runways, taxiways and aprons.
BCEG is currently building one of the largest aviation construction projects in the world: Beijing Daxing International Airport. The project comprises nine runways and a 1.4m square metre terminal area. It is also expected to be the busiest airport in the world in terms of passenger traffic at full capacity, accommodating 130m passengers per year and over 1m flights per year. Phase one of the new airport will be open and operational next year, on schedule.
Xing Yan, Regional Director of BCEG International Co. Ltd. said:
"To be joining with our partners MAG to take part in the selection process for the concession for Sofia Airport is a real honour for us.
Working alongside MAG in Bulgaria, will be an exciting, challenging and rewarding opportunity and we look forward to further deepening our existing relationship with MAG.
We see our involvement in our bid for Sofia Airport as an extension of the memorandum of understanding between China and Bulgaria as part of the 'One Belt, One Road' initiative. The project represents a real opportunity for us to further explore joint infrastructure opportunities.
We will bring our Chinese investment together with our expertise and extensive skills in aviation, construction, development, investment, and infrastructure to Sofia Airport. As a main contractor and partner, we have great confidence in the development and believe it will act as a magnet for inward investment into Sofia, which will bring economic benefits and employment to the region."
The Rt Hon Chris Grayling MP, Secretary of State for Transport in the United Kingdom, said:
"MAG has invested heavily in its airports in the UK and has seen consistent, sustainable growth. I am pleased to support their bid to share this success at Sofia Airport and a trusted airport operator like MAG is the right company to be investing in Bulgaria as Britain seeks to strengthen its economic ties"