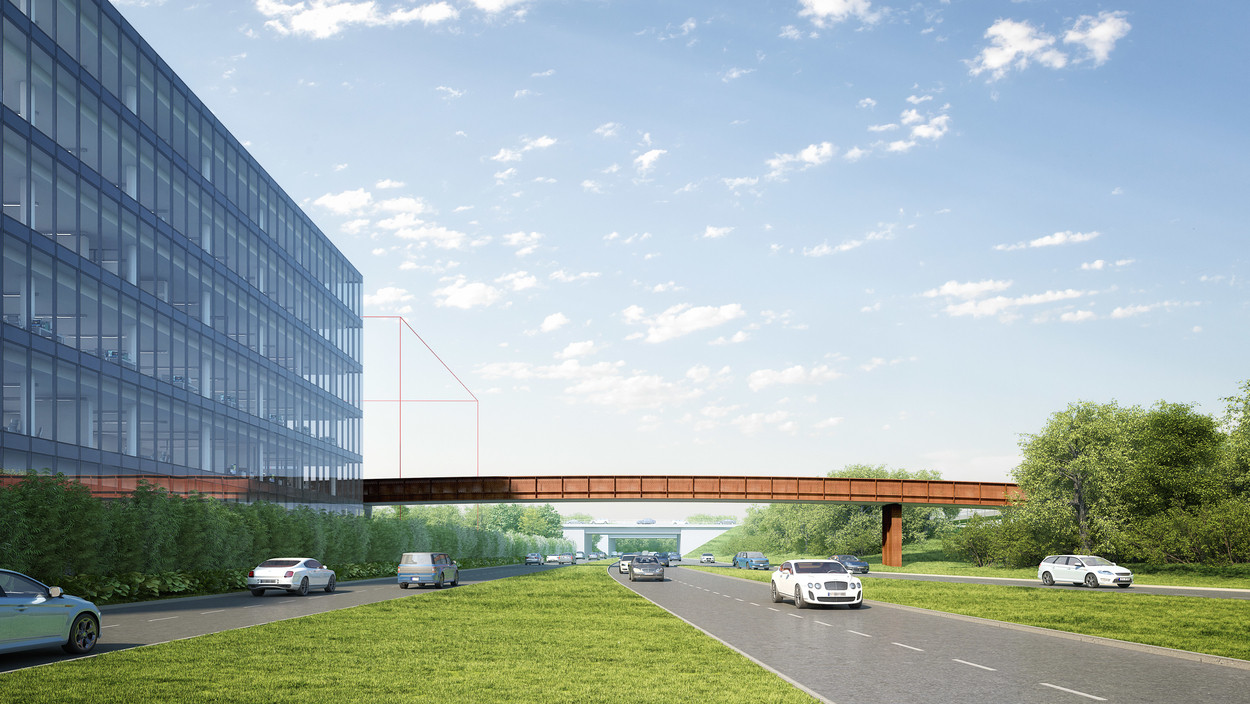 Work to build a new, £6 million pedestrian and cycle bridge over the M56 motorway spur road at Airport City Manchester has started on site, following the appointment of BCEGI as the main contractor.
Spanning 52.5 meters and featuring weathering Cor-Ten steel, the bridge is a critical piece of infrastructure for Airport City Manchester.
The new bridge will create a vital link between the main development areas of the landmark Airport City project, which includes the £1million sq ft campus for The Hut Group, hotel district and a variety of office building.
It will also link the site to the airport's transport interchange and terminals, as well as providing direct access to pedestrians and cyclists travelling to and from Wythenshawe and wider local area.
Providing a new, iconic visual "marker" for Airport City, the plans also include extensive landscaping and public realm, designed to be accessible to all, with feature ramps and passenger lifts.
Dongwen Yu, Lead Director, BCEGI, said:
"We are delighted to be appointed as the main contractor to deliver the new bridge at Airport City Manchester."
"This project will deliver a landmark structure for the scheme – and it will help transform pedestrian and cyclist access to the site, and with other major infrastructure now in place, ensures the plots are truly 'development-ready' for prospective occupiers."
"We are proud of our role in helping bring Airport City Manchester as a construction and JV partner and we are confident that this is just the start of what a become a huge success story for the region."
Jonathan Haigh, Managing Director of MAG Property and Airport City JV Partner, said:
"Following the completion of Enterprise Way, the new bridge is the next critical piece of infrastructure that will become a catalyst for the delivery of the new £180 million hotel district, The Hut Group campus and approved speculative offices; delivering the Airport City Manchester vision, unlocking the potential for development and job creation across the entirety of the 73 acre site."
Mike Kane MP for Wythenshawe and Sale East, said:
"This is fantastic news for Airport City Manchester and will open up the development site for forthcoming developments and importantly the transport network. This is also a huge step forward in opening-up new jobs and opportunities, and building the economic and regenerative potential of this site for Wythenshawe and beyond.
"Currently, the two existing routes from the Ground Transport Interchange to Wythenshawe involve crossing points across high speed and heavy volume dual carriageway roads. This new pedestrian-dedicated route will ensure much better access to the excellent and wide-reaching coach, bus, Metrolink and train services that are currently on the doorstep for residents and businesses in Wythenshawe."
Designed by architects 5Plus, planning approval was granted in December 2018 by the local planning authority, Manchester City Council.
Construction is set to take nine months and will be complete in August 2020.