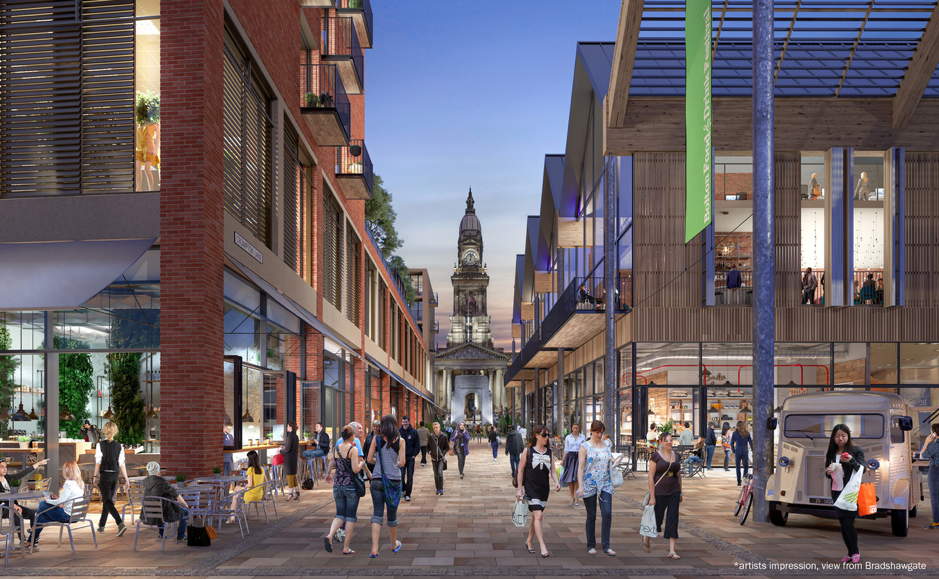 PLANS to "refresh and revitalise" the town centre have been revealed to the public for the first time.
Crompton Place Shopping Centre and the surrounding areas could be completely redesigned and replaced with a hotel, housing and office space in a major overhaul.
The proposals are open to consultation and will be put on display to the public later this week.
Under the plans, the entire area from the town hall through to Bradshawgate would be provisionally renamed "Bolton Victoria Square", although this title is also open to consultation.
The project comes as part of Bolton Council's regeneration "masterplan" – now valued at £1.5bn – and is brought by Bolton Regeneration Ltd, a partnership between Beijing Construction Engineering Group International (BCEGI) and Midia.
Steven Turner, director of Bolton Regeneration Ltd, said: "This scheme is the first key step in developing an exciting vision for a refreshed and revitalised Bolton town centre and we are incredibly excited to be driving this forward.
"The re-purposing of Crompton Place Shopping Centre will enable the creation of multi-use space that improves the access and pedestrian flows within the town centre.
"Importantly, the revitalisation of the area will deliver real long term economic and social benefits for the people of Bolton."
In addition to new buildings for housing and office space there will also be upgraded retail units and space for independent and local shops.
Council chief executive Tony Oakman encouraged residents to get involved in the plans by attending consultations and giving their views on what is being proposed.
"We are committed to making Bolton town centre a great place to live, work, shop and visit," he said.
"The proposals for Crompton Place lie at the heart of our £1.5bn town centre masterplan that will deliver a centre that everyone in Bolton can be proud of.
"We want the residents of Bolton to help us shape these developments which is why it is so important that as many people as possible come along to the consultation events and have their say.
"All the partners have worked long and hard to get to this stage to come up with these exciting plans. I'd encourage everyone with an interest in the town centre to come along."
On show at the consultation events will be all of the proposals for the new multi-use development as well as plans for improving the surrounding pedestrian areas.
Town hall bosses first made the decision to buy Crompton Place in June 2018.
They agreed a £14.8m deal to acquire the building from Santander, in order to "take control" of what was planned to be a key part of the town centre masterplan.
In addition to revamping the shopping centre the proposals also include major developments at four other sites – Trinity Quarter, Cheadle Square, Church Wharf and Croal Valley.
The £1.5bn blueprint, funded via a low-interest loan, is expected to create 7,400 new jobs and an extra £412m of economic activity.
Planners behind the proposals aim to restore Bolton town centre as the heart of the community but are asking for the public to make their views known in order to make any necessary changes.
To have your say, come along to the former Clarks shoe shop in Crompton Place opposite M&S on the following days:
Thursday, November 28, 4pm – 7pm.

Friday, November 29, 10am – 4pm.

Saturday, November 30, 9am – 12pm.
Further information and an online feedback form are available at: www.boltonvictoriasquare.co.uk.
Alternatively, to get in contact with a representative from the project, email info@boltonvictoriasquare.co.uk.