BCEGI has been appointed as preferred construction partner to deliver phase three of Scarborough Group International's £1 billion mixed-use development Middlewood Locks, in Salford at the gateway to Manchester City Centre.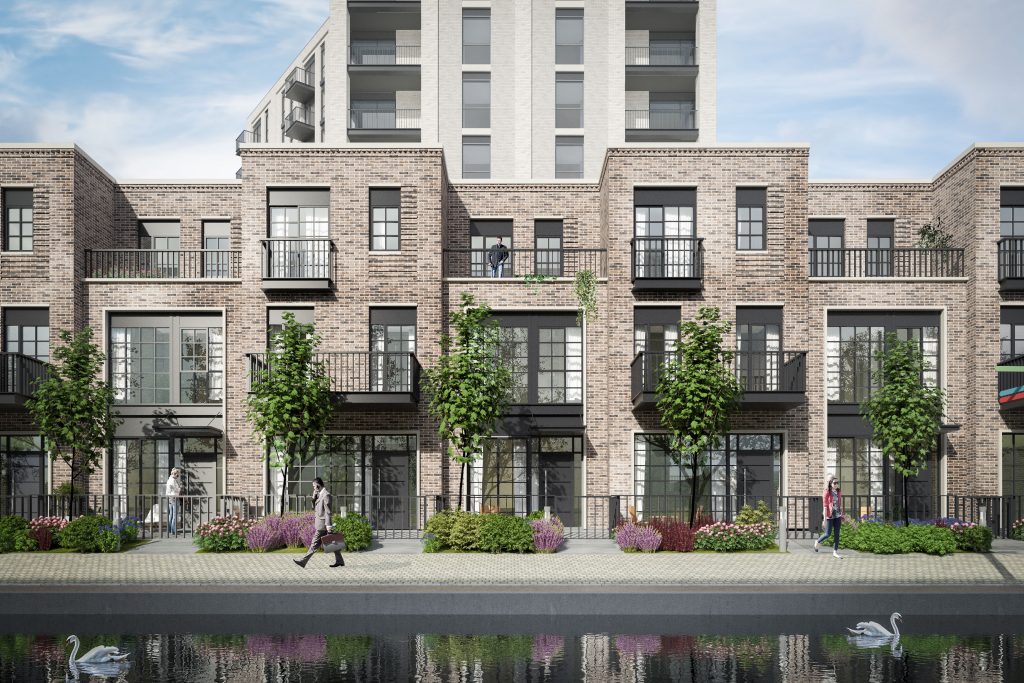 BCEGI has already completed phases one and two at the award-winning scheme which is one of the largest regeneration projects in the North-West and the UK.
The first phase of 571 homes completed in September 2018 and phase two of 546 homes completed in November 2021. Phase two was purchased by award-winning PRS operator Get Living for its first PRS venture outside of London.
Both phases are sold out and a new community of over 1,000 residents now live at Middlewood Locks where iconic brewery brand Seven Bro7hers has opened its first beer house alongside Co-op Food and 92 Degrees coffee shop.
Phase three which has been named 'Railings' features 189 new homes which includes 176 one to three -bedroom apartments in two blocks, one of 10 storeys and the other 12 storeys, on the northern side of the canal opposite Phase 1. There will also be 7 canalside three to four-bedroom townhouses along with 6 mews houses to support family living.
The Railings will provide further high-quality accommodation incorporating first class amenity space, balconies and private gardens that blend seamlessly into the public realm areas of previous phases.
The project will also feature 5,150 sq ft of ground floor commercial and retail accommodation with an additional 5,000 sq ft of offices.
When completed, the 25-acre neighbourhood will provide a total of 2,215 new homes and 900,000 sq ft of commercial space, including offices, hotel, shops and restaurants.
Work on The Railings is scheduled to commence in the first quarter of 2022 with completion in 2024.
Dongwen YU, Lead Director at BCEGI, said:
"We're delighted to be appointed to deliver The Railings for Scarborough Group International, following our successful partnership in completing phases one and two.
"The recent completion of phase two is a significant moment for Middlewood Locks as well as a great achievement for BCEGI in what has been an extremely challenging time for the construction industry. We are thrilled to be, once again, an integral part of what is one of Greater Manchester's most significant projects."
Kevin McCabe, Chairman of Scarborough Group International, commented:
"Our relationship with BCEGI stretches back over seven years, having first met with Senior Directors at their Beijing headquarters before getting to know key personnel at their UK-base office in Manchester.
"Our mutual respect, admiration and commitment to excellence in developing inspiring communities for people to live, work and enjoy made BCEGI the obvious construction partner for Middlewood Locks and has culminated in the completion and occupation of 1,117 new homes and 10,000 SqFt of commercial space over the last five years.
"This appointment is an important step in continuing the delivery of our vision for Middlewood Locks and we look forward to furthering our partnership with Mr Yu and his team in the years ahead, not only encompassing the future phases of Middlewood Locks but also the Group's wider development portfolio."