Our first major development in Liverpool has led to the added bonus of more than £76m worth of social value, including the delivery of dozens of community events.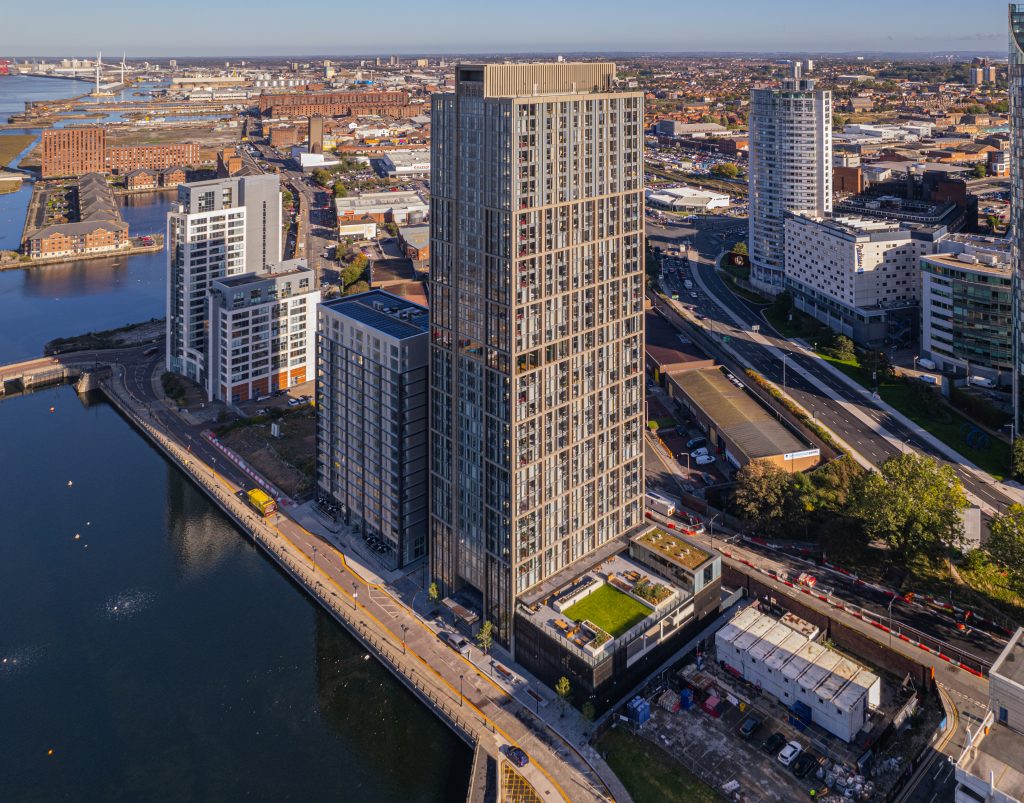 The £90 million Lexington development, a 34-storey tower and the third tallest building in Liverpool, was designed by architects Falconer Chester Hall and built by BCEGI in partnership with Moda Living. It is an integral part of Peel L&P's £5bn Liverpool Waters scheme.
The construction began in 2018 and was completed in 2021. Now an independent report by Real Worth shows that we created the equivalent of more than £76m of social value during the construction of the tower.
The figure is based on our community and corporate social responsibility (CSR) activities; the added value of using local supply chains; the apprenticeships we created, and through engagement with local schools and colleges.
Our 18-strong project team spent 213 hours carrying out community and educational events which attracted more than 7,000 attendees. We also took part in a charity football tournament, provided mock interviews for Chesterfield High School and provided site visits for Liverpool John Moores University and University of Liverpool students.
By partnering with a community interest company, we were able to provide work placements and training for former prisoners, including four who were given permanent employment.
The report also highlights that 100 percent of the BCEGI workforce and 80 percent of subcontractors working on site came from the Liverpool area, and 99 percent of waste removed from the site was recovered for recycling.
David Rowlands, project lead at BCEGI, says: "It's our commitment to create opportunities for local people, to work together with our supply chain and to enhance communities.
"BCEGI wants to see Liverpool thrive as a city and we want to do our bit to support the local economy."
The "New York style" Lexington building includes 325 high-quality homes designed exclusively for rent as well as extensive resident amenities, including co-working space, cinema room, private dining room, 24/7 gym, roof garden, and sky lounge with views across Liverpool and the Wirral.
Andrew Parker, Executive Director of Development and Projects at Moda Living, says: "We are extremely proud of the social value generated with BCEGI on the construction of Moda, The Lexington. As long-term custodians of our build-to-rent neighbourhoods, having a positive impact on the communities around us is a key priority for Moda, so it's fantastic to be able to measure the significant social impact that the delivery of this project had in the city. Now Moda, The Lexington is operational, we remain committed to supporting our local communities and the brilliant city of Liverpool."