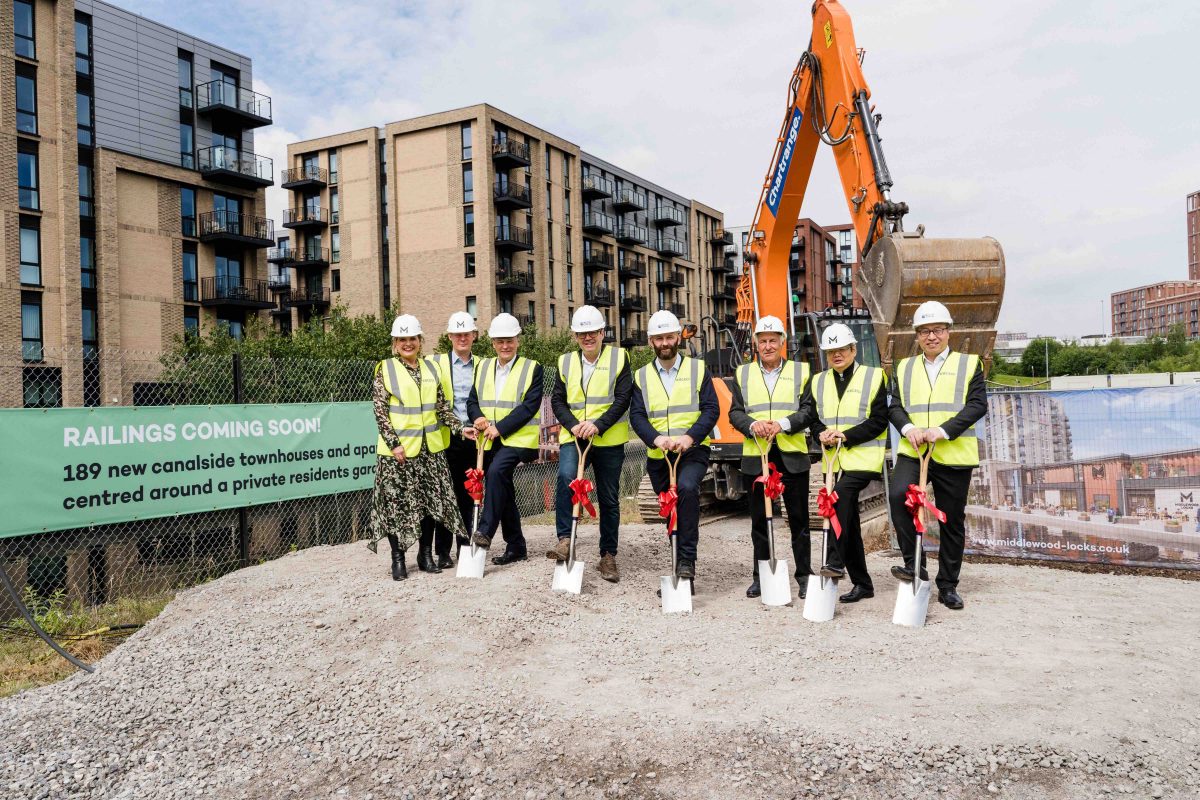 Senior officials gathered to commemorate the start on site for the next significant phase of development at Middlewood Locks, the £1 billion new neighbourhood emerging between Salford and Manchester city centre.
Dongwen Yu, Lead Director at Beijing Construction Engineering Group International (BCEGI), Salford City Mayor Paul Dennett, Mayor of Greater Manchester Andy Burnham and the Chinese Consul General in Manchester Zheng XiYuan joined the gathering alongside the Chairman and Chief Executives of Scarborough group international Kevin McCabe and Simon McCabe to mark the occasion.
Phase three, named 'Railings', features 189 new homes including 176 one to three -bedroom apartments in two blocks, one of 10 storeys and the other 12 storeys, on the northern side of the canal opposite Phase one. For the first time, there will also be seven canalside, three and four-bedroom townhouses along with 6 mews houses to support family living.
The Railings will incorporate first class amenity space, balconies and private gardens that blend into the public realm areas as a continuation of previous phases. The scheme will also feature 5,150 sq ft of ground floor commercial and retail accommodation with an additional 5,000 sq ft of offices.
Dongwen Yu, Lead Director at BCEGI, said:
"We are delighted to work in partnership with Scarborough Group International again on this important development for Salford, as part of our commitment to delivering new homes for the local community.
"BCEGI has a strong track record of enriching local communities after having already completed phases one and two, generating £260m local economic benefit for the Greater Manchester region.
"We are pleased to be able to continue the good work by delivering phase three of Middlewood Locks "Railings" and creating a sustainable new neighbourhood through economic contribution as well as construction.
"This development has already had a positive impact on the communities of Salford and Greater Manchester, and we are proud to be playing a pivotal role in the process."
Zheng Xiyuan, Consul General of the People's Republic of China in Manchester, said:
"The development of Middlewood Locks is an exciting and much-needed project to provide high-quality homes in the heart of Salford.
"An investment like this in making our city a great place to live, work and relax is of the utmost importance.
"My thanks go to Scarborough Group International for this great project, to BCEGI for their exceptional construction expertise and the dedicated involvement of all of our partners. I believe this scheme has and will continue to bring immeasurable benefits for our residents, for people across the wider region, for our businesses and for Salford as a whole – both now and for generations to come."
Kevin McCabe, Chairman of Scarborough Group International, commented:
"We are delighted to start on site with the delivery of the Railings at Middlewood Locks, a development that we are immensely proud of and one that has already made a considerable social and economic impact on the region. The creation of this vibrant and inclusive new neighbourhood has been made possible thanks to our successful collaborations and support from the local authorities, Homes England and our delivery partners and we are pleased to be able to showcase this to our esteemed guests today."
Paul Dennett, City Mayor of Salford and Deputy Mayor of Greater Manchester, said:
"Middlewood Locks is a Salford success story that keeps on delivering. It has created thousands of jobs for our local economy, delivered over a thousand homes that are desperately needed for Salford residents and transformed a derelict site into a vibrant and sought-after neighbourhood.
"I am excited to see how the next phase unfolds and how it works with its ever-growing community as our city moves forward with this ambitious regeneration project."
Andy Burnham, Mayor of Greater Manchester, said:
"I am delighted to see first-hand what has been achieved so far at Middlewood Locks. This place is a part of the 'new' Greater Manchester, and is a fantastic example of brownfield site development that delivers homes where there are great public transport links and green spaces. When we connect Middlewood Locks to our London-style public transport system, it will become an even better place to live, right in the heart of a resurgent North of England.
"Congratulations to Salford City Council, their partners, and the delivery team, who should all be proud of what they have achieved so far. It shows that the potential is here. It's evidence of what we can do together, and how much more we can do with the right backing and investment."
Planning consent was granted 2021 for phase three at Middlewood Locks following the successful completion and sell out of 1,117 apartments in phases one and two. The multi-award-winning new neighbourhood is already thriving with over 1,300 people living and working at Middlewood Locks with a recent report highlighting a £260 million contribution to the Greater Manchester economy so far.
When completed, the 25-acre neighbourhood will provide a total of 2,215 new homes and 900,000 sq ft of commercial space, including offices, hotel, shops and restaurants.