.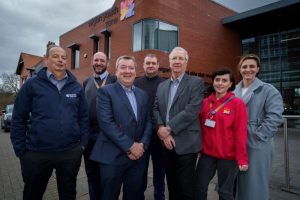 We are extremely proud to have championed this initiative on behalf of Wigan Youth Zone.
Led by our Construction Director Aaron Adams, we have reached out to our development and contractor teams to garner support and investment, with the fundamental objective of making a real difference for the young people of Wigan.  BCEGI is working with Wigan Youth Zone to match the various project partners to a range of funding packages and so far £17,000 has been committed by the Galleries team in total.
Commenting on supporting the work of the Youth Zone Cityheart development director Warren Taylor said: "We're very pleased to be able to support the Youth Zone with this donation and thank BCEGI for driving this initiative and helping us to all raise as much money for them as possible.
"BCEGI's demolition programme is well underway and The Galleries will transform Wigan town centre when it completes, but it was important to us as the Council's development partner that we start to make a change to the local community as early as possible. Supporting the important work of the Youth Zone is a great way to help local people at the very outset of delivering this transformative scheme for Wigan."
Councillor David Molyneux MBE, Leader of Wigan Council added "I am very proud that Wigan Council provides funding to the Youth Zone. It is a fantastic place, and this year is celebrating 10 years of inspiring and empowering youth people in our borough to fulfil their potential."
He continued: "Wigan Youth Zone providers opportunities for our young people to grow and explore within their incredible facilities including a climbing wall, skate park, music room, dance studio and much more. This funding will enable the Youth Zone to continue to support our young people and continue to create long-lasting change."
Aaron Adams, Construction Director from BCEGI added: "Supporting the communities which we invest and work in is a key priority for BCEGI. Our team has been working with Wigan Youth Zone for over 3 years and we are delighted with the engagement received to date from our supply chain.  To have already raised £17,000 is a brilliant achievement, and a figure that will grow significantly over the coming months and years whilst we continue to double our efforts. We are keen to ensure that the young people of Wigan have an opportunity to flourish under the protective wing and guidance of the Youth Zone."
The £135m demolition phase of the former Galleries shopping complex site is now more than halfway completed and is expected to be finished before the end of the year.
The scheme will deliver one of the UK's most innovative low carbon regeneration projects, transforming the town centre. It will comprise 483 homes across seven new residential buildings; a 144-bedroom hotel; a retirement living complex; a multi-media centre; new market hall and food court as well as new landscaped areas of public realm including a public square for events and performances.