Another major milestone for BCEGI and for one of the largest single regeneration projects in the Northwest has been reached this week as dignitaries gathered to mark the occasion.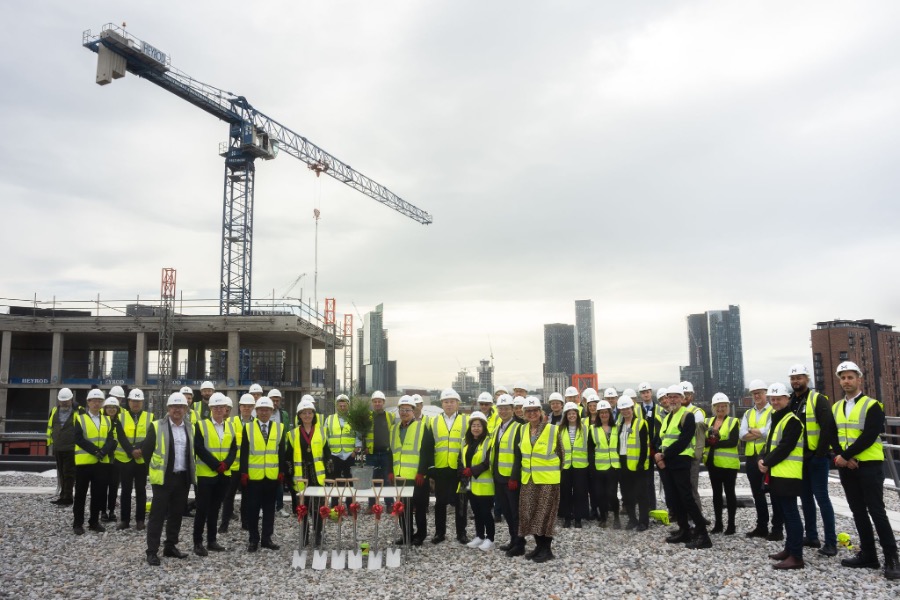 BCEGI and Scarborough Group International (SGI) have celebrated with a topping out ceremony for 'Railings', phase three of Middlewood Locks, the £1billion mixed-use scheme and new neighbourhood under development in Salford.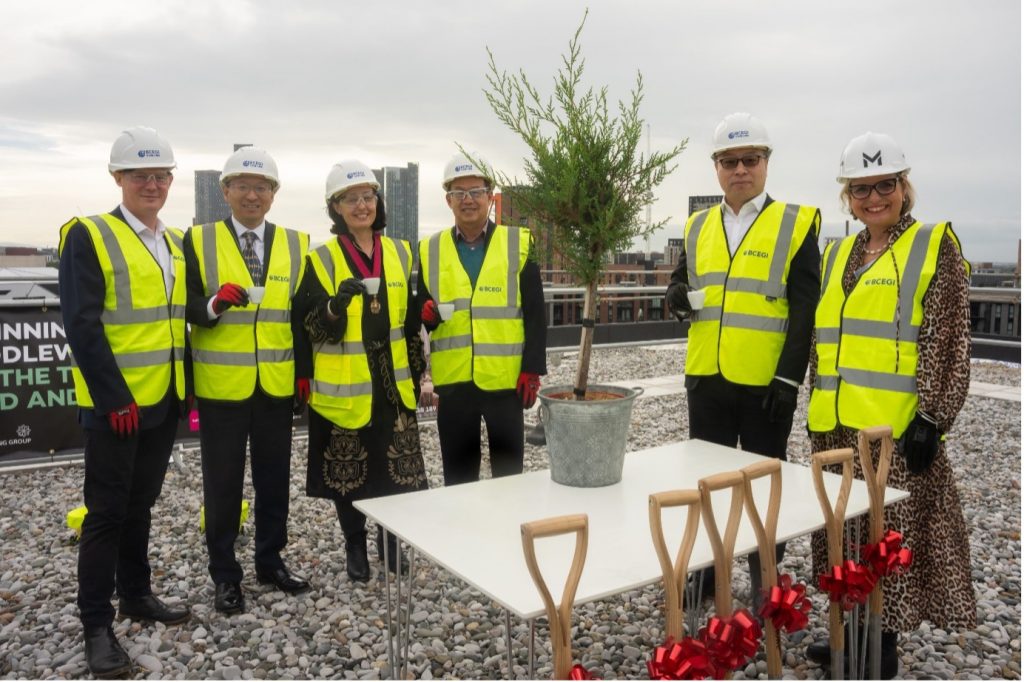 Over 50 special guests gathered including Deputy Ceremonial Mayor of Salford and ward councillor for Ordsall, Tanya Burch, and the Chinese Consul General, Rui Tang. Senior representatives from SGI's joint venture partners Metro, who flew in from Singapore for the event, Salford City Council, Homes England and the delivery team were there along with our BCEGI's senior team led by our Lead Director, Mr Dongweng Yu.
Mr. Yu said: "We are very pleased to attend the topping out event for Railings, the third phase of Middlewood Locks, working closely with SGI and our delivery partners."
"We are proud of the work that has been completed to date in creating this thriving new neighbourhood in what is one of the UK's most prolific regions, and to realise the considerable social and economic values that have been achieved so far."
Kevin McCabe, chairman at SGI, said: "We are delighted to achieve 'topping out' for Railings, the third phase of Middlewood Locks which marks a very important milestone in our ongoing commitment to deliver one of the largest single regeneration projects that the North West has ever seen."
"Our strong links with the Far East, in terms of our joint venture partners and principal contractor, alongside our mutually beneficial collaborations with key stakeholders such as Salford City Council and Homes England, have helped us to make a vision into a successful and economically viable reality and we are thankful to all that have been involved."
"Middlewood Locks is a major undertaking for us and I am pleased to say greatly supports the regional economy with strong job creation and ultimately much-needed new homes in the city."
Mr Yip, group chief executive officer and executive director at Metro Holdings, said: "It is fantastic to visit Middlewood Locks at such an important milestone in its delivery. As our first venture into UK real estate markets, it is most rewarding to witness an already established and thriving community here."
"We are extremely pleased to continue our long-standing partnership with Scarborough Group International as a highly respected developer and trusted partner."
Terry Errington, head of structured real estate finance at Homes England, said: "It is rewarding to see how our allocation of funding at Middlewood Locks from the government's Levelling Up Home Building Fund is helping to positively impact the local area. This regeneration-led project is a fantastic example of how the public and private sector can work together to deliver a truly sustainable new community with a positive impact on the built environment."
'The Railings' has introduced the option for family living with 189 new homes including seven waterside townhouses, six mews houses alongside a mix of one-, two- and three-bedroom apartments.
Seven years under development, the scheme has already made a considerable economic impact, supporting around 6,000 jobs with the total local economic benefit to the Greater Manchester sub-region for phases one and two at £260million.