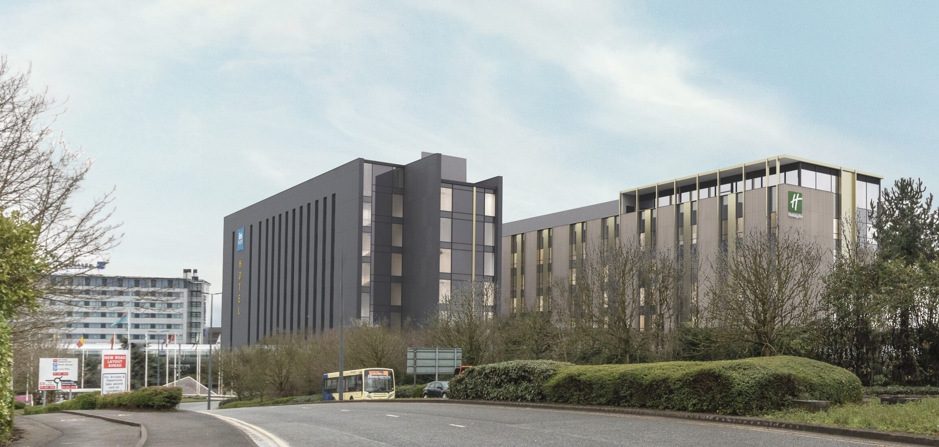 BCEGI has been awarded the £45 million project to build the first two hotels in Airport City Manchester's brand new hotel district– a 280-bedroom Holiday Inn and 262-bedroom Ibis Budget, which are due to be completed and open in early 2022. The construction of these hotels is currently underway.
BCEGI is a joint venture partner with Manchester Airport Group and the Greater Manchester Pension Fund on the delivery of the wider £1bn Airport City masterplan, which will see the development of a large-scale mixed-use development featuring hotels, offices, retail and a logistics park.
In addition, a new planning application has been submitted to Manchester City Council for a nine-storey, 412-bedroom hotel and restaurant, operated under the TRIBE brand, which is part of the Accor Group and whose other brands include Mercure, Sofitel and Novotel.
The developments are all located next to Manchester Airport and are at the heart of Airport City Manchester. Adjacent to the multimodal ground transport interchange, the hotels will become part of a wider Hotel District featuring a cluster of 9 new properties and providing more than 2,400 new hotel rooms.
The start of construction on these hotels is the latest stage of progress at landmark £1billion Airport City Manchester development – with the construction of a new £6 million pedestrian and cycle bridge over the M56 motorway spur road having commenced in October 2019.
It also follows plans to develop 1 million sq ft of office space for The Hut Group at Airport City Manchester.
Dongwen Yu, Lead Director, BCEGI, said:
"We are delighted to be appointed as the contractor to deliver these two new hotels at Airport City Manchester."
"Alongside The Hut Group and the new pedestrian bridge construction, both hotels reinforce the fact momentum at Airport City Manchester is building and it's fantastic to be involved as both JV partner and the main contractor."
Jonathan Haigh, Managing Director of MAG Property and Airport City Manchester Development Management Leader, said:
"The start of work on-site for our Holiday Inn and Ibis hotels is another major milestone for the Airport City Manchester scheme. Responding primarily to the Airport's sustained growth in passenger numbers and its £1 billion Transformation Programme to facilitate further growth and enhanced customer experience, the new hotels will provide much-needed accommodation to meet growing demand."
"We're also delighted with the submission of a further planning application for a TRIBE hotel, which again demonstrates the calibre of operator interest in Airport City Manchester as our vision continues to progress into a reality."
"These hotels, under globally recognised leading brands, will bring a range of additional facilities and amenities to the airport campus, such as meeting space and new food and drink offer, as well as providing employment opportunities for local people both during the construction stage and once operational"