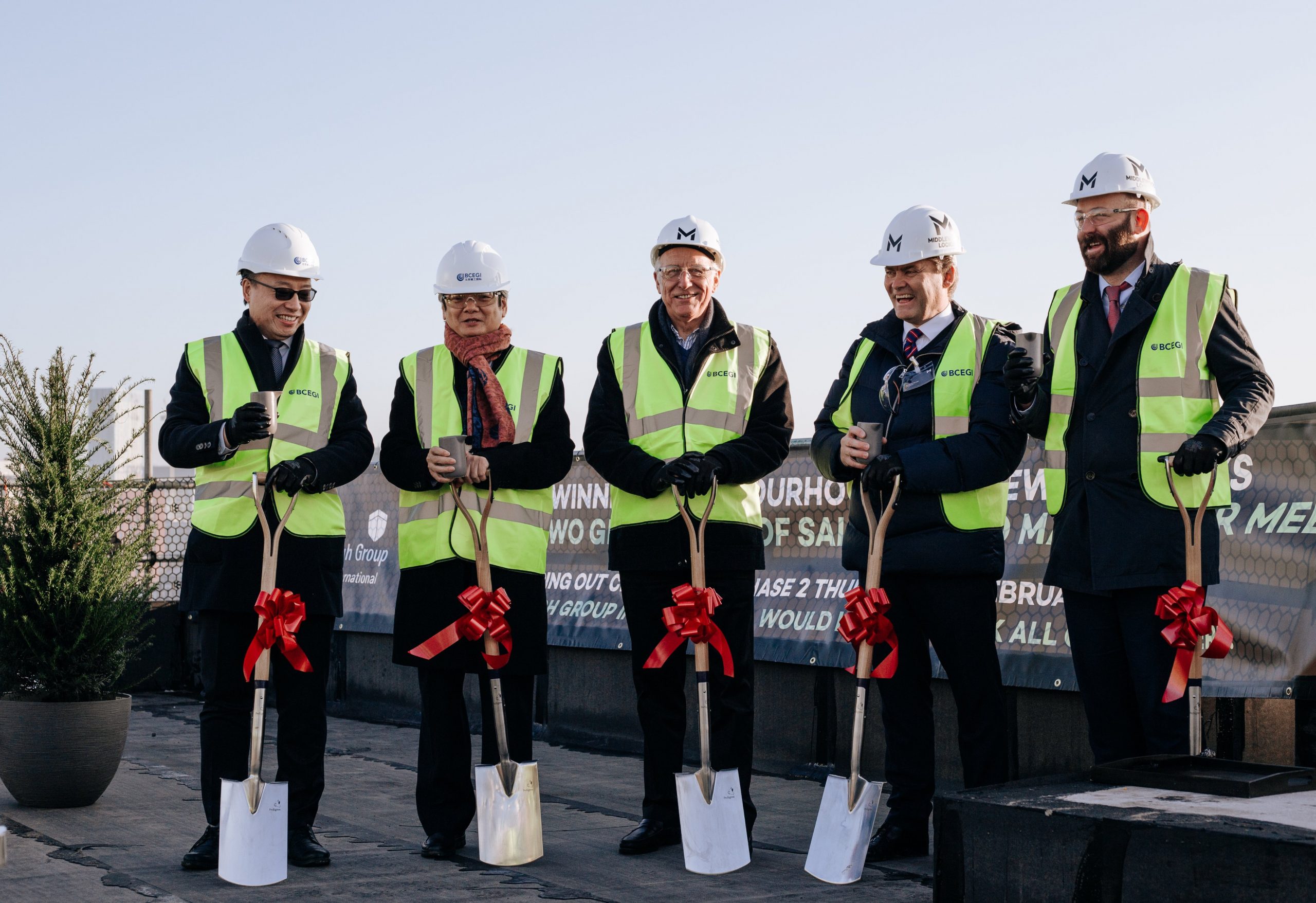 BCEGI and Scarborough International Properties celebrated the topping out of the second phase of Middlewood Locks, the exciting new mixed-use development in Salford at the gateway to Manchester city centre. 
Having successfully worked together on delivering the first phase of this fantastic scheme, we are proud of our role in helping Scarborough to transform the Middlewood Locks area from a plot of empty land to one of the most desirable neighbourhoods in the city.
The 'topping out' ceremony took place on the roof of the final building in the second phase of the development, which consists of four separate buildings of up to 10 stories providing 546 apartments, with buildings connected by podium gardens. The award-winning new neighbourhood is home to over 650 residents and counting, with 94% of homes sold in the first two phases.
The development, designed by architects Whittam Cox and landscape architects Planit ie, also includes ground-level parking and landscaped gardens providing connectivity between the public realm and park space surrounding the canal, which forms a central feature of the new neighbourhood. Already open at Middlewood is a Seven Brothers beer house and a co-op convenience store.
Guests, including Salford City Mayor, Paul Dennett, and members and officers of the Council, witnessed the planting of a yew tree (traditionally planted on roofs to ward off evil spirits) and then anointed the tree with wine, corn, oil and salt to bring prosperity, wisdom, abundance and hospitality to the development and its residents.
The whole of phase two was sold in January last year as part of a £180 million deal with a joint venture of Delancey Oxford Residential, APG and Qatari Diar, which acquired over 800 homes in phases one and two for renting under their Get Living brand.
The 25-acre Middlewood Locks development is now a vibrant waterside neighbourhood where the two great cities, Salford and Manchester meet. When completed, it will provide 2,215 new homes and 900,000 sq ft of commercial space, including offices, hotel, shops, restaurants, a convenience store and gym. With landscaped areas of green public space, the scheme is being developed around three large basins of the Manchester, Bolton and Bury Canal which connect to the River Irwell and is a short walk from the central business district and retail amenities of Manchester city centre.
Salford City Mayor, Paul Dennett said:
"It is very pleasing to see the Middlewood Locks project becoming the success story that we had envisaged four years ago, bringing real benefit to the people of Salford. This was a brownfield derelict site that is being brought back into beneficial use as a new residential and business district. 
"The development of Middlewood Locks has created new employment and provides much-needed housing in the area.
"We are excited to see further benefits for the community through working together over the future phases of this development, ensuring that growth in the city delivers on our social values and helps to tackle poverty in the city".
Yu Dongwen, Lead Director of BCEGI, said:
"I am very pleased we have reached this important milestone on phase two of Middlewood Locks and our partnership with Scarborough is going from strength to strength.  
"We have developed long-term relationships with local contractors and sub-contractors which are proving to be very successful. We are wholly committed to growing our business in the UK, especially in the Northern Powerhouse region and our work here in Greater Manchester, is providing a solid foundation for us".
Kevin McCabe, Chairman of Scarborough, commented:
"We are delighted to achieve the topping out of this second phase of our Middlewood Locks development which signifies an extremely successful partnership with Beijing Construction and also with the local authority. 
"Middlewood Locks is a major undertaking for us, and I am pleased to say greatly supports the regional economy with strong job creation and ultimately much needed new homes in the city.  
"I am also particularly pleased that there is now full commitment from the Government to HS2 which will provide a further boost not just to the Manchester region but also to the wider Northern Powerhouse".