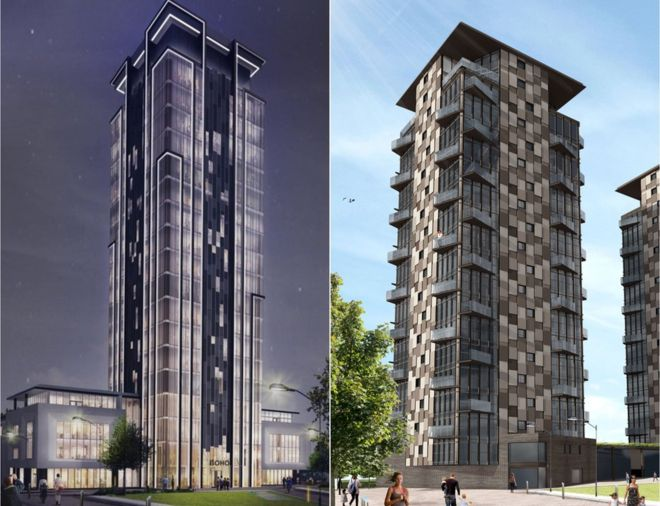 BCEGI will partner with Middlesbrough Council to deliver a £30m world-class digital skyscraper in a huge jobs boost for the town.
Just a minute's walk from Middlesbrough railway station, which will soon have direct links to London, the development will house the town's market-leading digital and tech firms under one roof.
The 260ft town centre tower is expected to become the tallest commercial building between Leeds and Glasgow.
BCEGI has committed to establishing a town-wide apprenticeship scheme and will work with the Council to offer work placements to young people from disadvantaged backgrounds.
Andy Preston, Mayor of Middlesbrough, said:
"This is all about ambition, energy and – most importantly of all – jobs for Middlesbrough.
"BCEGI have a global track record of significant projects and they're as excited about this as we are.
"It's tough at the moment for everyone, but we're ploughing ahead with this major regeneration project that will become a landmark for our town.
"This giant building will be a symbol of Middlesbrough's future.
"We owe it to Middlesbrough families to push on with our ambitions for their futures.
"With that in mind, I'm also really pleased that BCEGI are committing to working with us on providing opportunities for local people.
"There's a guarantee of local jobs in the construction phase and then the very best local firms can make Boho X their home and rise and prosper nationally and internationally as we make Middlesbrough the digital city."
Yu Dongwen, lead director at BCEGI, said:
"We're delighted to have been selected as Development Manager by Middlesbrough Council to deliver this ambitious scheme, and we look forward to working closely with both the Council and the wider community in the coming months and years.
"This development will form an important part of the Council's masterplan and we will be delivering a best-in-class destination that attracts new occupiers to Middlesbrough and reinforces Middlesbrough as a fantastic location for tech and digital businesses.
"BCEGI is a global business that delivers local projects, using local skills.
"We are committed to the UK, particularly the Northern Powerhouse region, and have a strong track record of job creation and economic contribution.
"We are very excited to be working in Middlesbrough and we are determined to help grow the local economy, attracting talent and creating opportunities for the local community."
For the latest local updates and information, visit www.middlesbrough.gov.uk/covid19.
For information on local help and support, visit Help Boro at www.middlesbrough.gov.uk/helpboro or call Middlesbrough Council's support line 01642 729777.
The latest advice from Government and Public Health England can be found at www.gov.uk/coronavirus.