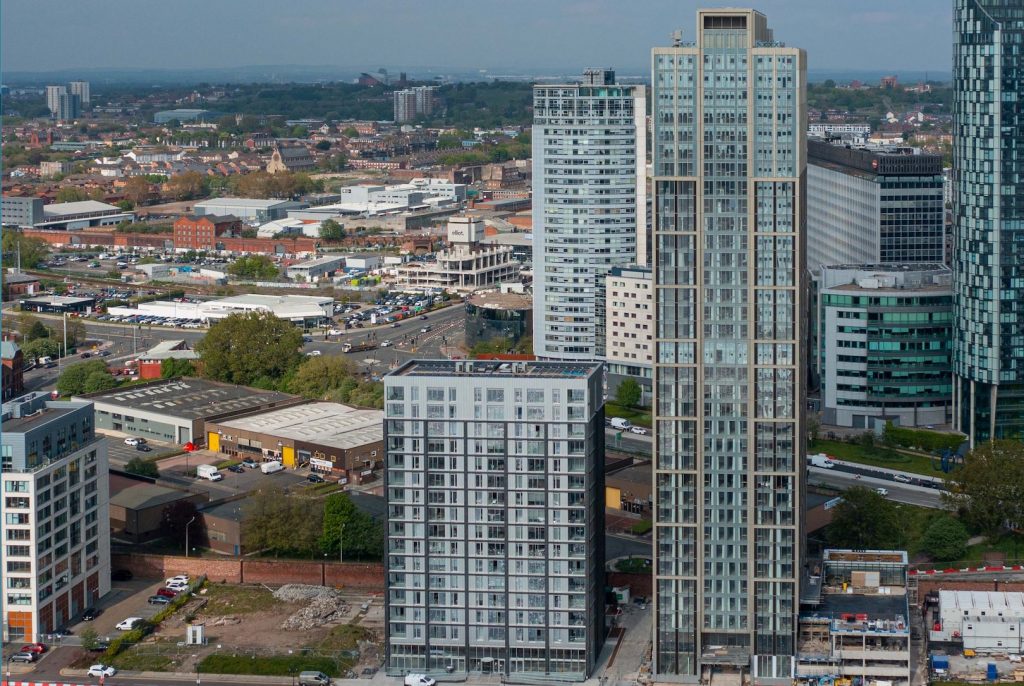 International construction company BCEGI on behalf of client Moda Living, has completed "The Lexington", the latest landmark in Liverpool Waters.
Moda Living's new 34-storey neighbourhood on Liverpool's celebrated waterfront has reached practical completion despite the challenges of Covid-19 and has welcomed its first residents.
Comprising 325 high quality homes designed exclusively for rent, with apartments ranging from studios to three-beds. the project is the first that contractor BCEGI has completed in this iconic North West city.
As well as new homes fitted with state-of-the-art technology, residents at Moda, The Lexington will have access to over 15,000 sq ft of dedicated amenity space, including a 17th floor sky lounge, dedicated gym and workout space opening onto roof gardens, with outdoor dining, kitchen, and co-working space.
The £90m, 34-storey tower is the tallest building along the waterfront and boasts unrivalled views across Liverpool, while also being an integral part of Peel L&P's £5bn Liverpool Waters scheme. This is the biggest single regeneration project in the history of the city, which is set to transform 60 hectares of historic docklands.
The development is just a stone's throw away from the Three Graces – the Royal Liver Building, Cunard Building and Port of Liverpool Building – that give the city its iconic waterfront.
BCEGI has used modern methods of construction and the latest technology "MEVA automatic climbing formwork" to deliver The Lexington. Working collaboratively with architects and engineers.
Building design was undertaken by Falconer Chester Hall architects, with detailed structural design during the technical and construction stages by EDGE consulting engineers.
Dongwen Yu, Lead Director at BCEGI, said: "We're extremely pleased to complete our first project in Liverpool in such a prominent location.
"This project represented a complex construction challenge, surmountable, thanks to the seamless professionalism of all involved. It has been a challenging time on site with the impact of COVID-19, but we are extremely proud of the team's efforts to complete this project under these difficult circumstances.
"This significant achievement is truly a testament to the strength of our collaborative culture and dedication as a project team. And I'm very proud that our hard work has delivered such an iconic new skyscraper for Liverpool."
Andrew Parker, UK Director of Projects at Moda Living, said: "We are thrilled that construction of Moda, The Lexington has completed. Liverpool is a fantastic city with so much heritage and we have worked hard to create a neighbourhood that celebrates all of its history and culture. We've seen that vision realised throughout the construction process, but we look forward to welcoming our new residents in the coming weeks to bring this thriving new Liverpool neighbourhood to life.
"We are particularly proud to have delivered this project during the Covid-19 pandemic. The dedication of the on and offsite teams kept The Lexington moving and it is thanks to their hard work that the building has been safely delivered on time."